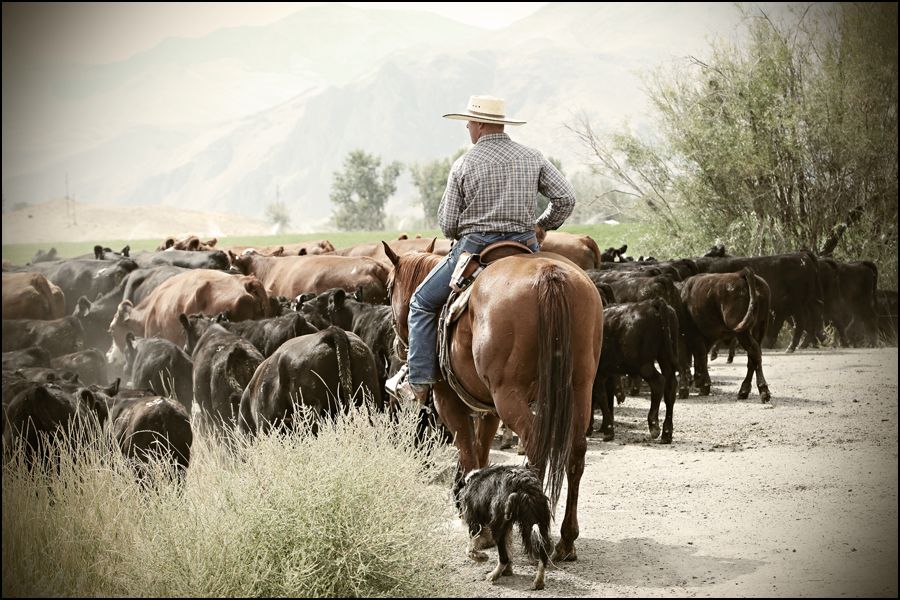 Ranch country often provides close-up interaction between motor travelers and cattle herds while moving them between ranges and pasture lands in our Open Range States. Most of the time it's pretty entertaining with so many stopping to take pictures and maybe have a few fun words with the cowboys, but I'm wondering if perhaps some motorists might like a quick lesson on just how to drive through them pretty cows anyways!
If cows are oncoming to your vehicle, slow down but then proceed to drive up stream so-to-speak dodging cattle as they (swim) past you. You will get up close and personal with the cattle and sorry to say the manure as well. Cows most likely will be bawling as most of them are looking for their calves, but they will be reunited as soon as they reach their destination.
If cattle are moving in the same direction as you, again slowly navigate around them as they give you open areas to pass. The cowboys are around to help if cattle need some coaxing but please don't bump into them.
There are often many cowboys, cowgirls and cattle dogs helping in this chore too, so please watch out for them as well!
It's sad to report that we have had a few cattle fatalities, a run-over dog and so many near misses when we move cattle, mostly due to travelers driving too fast.
In the West, most people are thrilled to see cattle being moved on the public roads, but sorry to say, there are also those who have no tolerance for such a thing.
We love the captivated travelers most!!!!!
See you on the roads and please keep your eyes out for cattle always in our Open Range States!!!
Happy Trails!